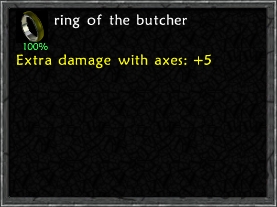 Rings have variating effects which help aid in damage, health, attack speed, protection against specific attacks or negative alliements.You can equip upto 8 rings, one ring for each finger which (when equipped in mass) can allow for massive bonuses.
Like other equippable items, they can be found with an increased effects rating. Like for example, a Precise ring of the Cleric can be found to have 107% effectiveness rating.
There is no way to repair rings above 100% through normal means.
Types of Rings
Edit
There are many types of rings in terms of their effects. Some have the affects of multiple rings in one. There is a grid on the types of rings down below with the rarest types of rings at the bottom:
| Icon | Name | Rarity | Effect | Dropped by | Additional info  |
| --- | --- | --- | --- | --- | --- |
| | Ring of the Assassin | Common | +5 to Dagger Damage | First/Second Dungeon | |
| | Ring of the Warrior | Common | +5 to Sword Damage | First/Second Dungeon | |
| | Ring of the Blacksmith | Common | +5 Mace Damage | | |
| | Ring of the Butcher | Common | +5 Axe Damage | | |
| | Ring of the Archer  | Common | +5 Bow Damage | | |
| | Ring of Ice | Uncommon | +5% Ice Damage | | |
| | Ring of Fire | Uncommon | +5% Fire Damage | | |
| | Ring of the Mage | Uncommon | +5% Arcane Damage | | |
| | Ring of the Cleric | Uncommon | +5% Light Damage | | |
| | Ring of the Mutilator | Common | Extra damage with daggers, swords and axes: +10 | Labolatory shop 170g | 1 in stock |
| | Ring of the Ranger | Common | Extra damage with swords and bows: +10 | Labolatory Shop 150g | |
| | Ring of the Paladin | Common | Extra damage with Swords, Maces and polearms: +10 | Labolatory Shop 160g | 1 in stock |
| | Ring of the Barbarian | Common | Extra damage with maces and axes: +10 | Labolatory Shop 140g | |
| | Ring of Elements | Common | Extra damage with fire and frost: +5% | Labolatory Shop 150g | 1 in stock |
| | Ring of Life | Common | Max health: +5 | Labolatory Shop 140g | |
| | Ring of Strengh of Kol'Zarek | Quest | Extra damage with dagger, sword, axe, hammer and polearm : +64 | Old goblin - Eternal Youth | Choose this item or the pet. |
| | | | | | |
| | | | | | |
| | | | | | |